There will be no meetings at the Rail Cluub until January 2021 at the earliest.


WDPS ZOOM Session, 21September 2020
Sue Clark, Composition, Rules and Myths


Sue Clark's professional life was in science but her passions have always been in creative arts and art history. She started taking photographs as a teenager, although it wasn't until she joined Conwy Camera Club in 2010 that she began to look at her images in any critical way. Having them assessed in club competitions was very helpful, especially the comments and discussion about composition and use of colour.

There seemed to be so many rules about how to compose a picture that she decided to research the subject. This talk is a discussion of how, why and when composition guidelines and use of colour have developed and their validity in the creation of an image.


Sue pointed out that we crave harmony in our surroundings. The Ancient Greeks realized that we instinctively feel comfortable with certain shapes, proportions and arrangements of objects in a space. These principles have developed into guidelines used down the centuries by artists, architects, sculptors and more recently, photographers. She demonstrated this with many images of paintings and photography.


She explained that if these guidelines produce a pleasing image, then by flouting the rules a less comfortable or more challenging impression can be created.


Some people have a good eye for design and instinctively compose the picture to suit their subject and its message. Other people need a little help from the guidelines to produce a successful composition and the more they practice, the more intuitive it becomes. Sue said that making objective analyses of paintings and photographs in galleries can help to see what works.


Picasso said "Learn the rules like a pro, so you can break them like an artist"


WDPS ZOOM Session, 7 September 2020
Paul Stanley, FIPF, EFIAPg "My Photography"


Paul Stanley is a member of the Dublin Camera Club, and has been the President of the Irish Photographic Federation. He is a enthusiastic contributor to international exhibitions and salons and given presentations to many organisations both in Ireland and internationally.. Paul is not a speaker we could usually see in Wrexham,, but because of the Covid19 cloud we are able to communicate remotely. A silver lining indeed.

Paul's talk covered many genres., travel, street, landscape, people and long exposure. He meticulously plans his expeditions, preferring not to use local guides and hence his images are not the usual "put your tripod here" pictures. He likes to keep things simple, "get it right in the camera" and does not use flash or much computer manipulation.
This approach was exemplified by an image of Inch Beach, Ireland taken from a cliff showing a large number of people enjoying the sea and beach. However, Paul waited until a man carrying a surfboard was approximately centre field. This gave a focal point for what was essentially a pattern photograph with the feeling of a Lowry's matchstick men painting. This attention to detail shows in many of his images.

Particularly noteworthy was the proportion of monochrome images. Paul's' approach is that if colour adds nothing, stay in monochrome. Colour often distracts from the object of the image, especially in street photography. Even in Paul's colour images he tends to use a limited palette.
The image below is typical of Paul's work. It is taken with natural light but the combination of the principle subject and the background pair of friends works very well. It was taken without the photographer arranging the subject – this is as found.

This was a fascinating talk with a extensive range of first class images
.

Tom O'Donnel, by Paul Stanley, FIPF,EFIAP.
WDPS ZOOM Session, 17 August 2020

Simon Van-Orden

The WDPS had a Zoom session on Monday, 17 August at which the guest speaker was Simon Van-Orden from Epson.
Despite living in the South of the UK his passion is for the Aurora Borealis (or Aurora australis in the southern hemisphere) otherwise known as the "Northern Lights" He explained to us the science behind these displays, depending as they do on emissions of hot plasma from the sun reacting with the earth's magnetic field and its atmosphere. Prediction of Aurora can be based on solar activity.
Simon listed the myths behind these displays ranging from arguments between the Nordic gods, to signs of good fortune
. Photographically the displays are faint, but because the eye is relatively insensitive to low light, photographs frequently show more than is visible. A wide angle, wide aperture lens is required, together with a solid tripod and a remote, and a dark sky location, usually in Scandinavia. The camera should handle high ISO without noise. The camera should be used with manual focus control since it will otherwise hunt during the exposure, and focus is critical to keep the stars sharp. He quoted a 30mm lens at f2.8, ISO of 3000 and exposure time of 15 seconds as typical.
We were shown a number of images of aurora, all of which were spectacular.
Simon has run photographic trips to favourable sites and will continue after the Covid19 crisis has passed, but at present the aurora activity is weak. The forecast is that aurora will reach a pea activity in 2024.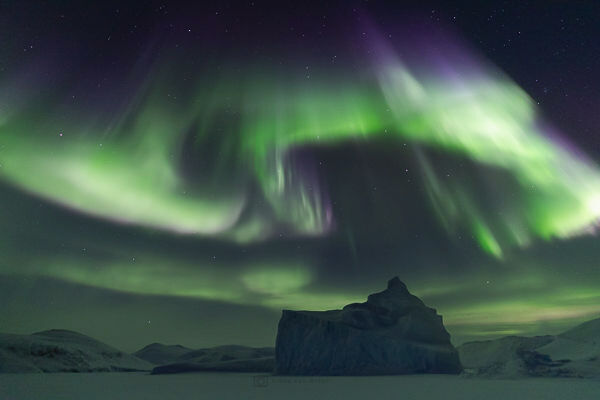 Aurora, by Simon Van-Orden..
WDPS ZOOM Session, 3rd august 2020

Martin Patten, DPAGB, LRPS, BPE4*, QPSA
Planning Photgraphy, not Grazing

On Monday, 3th August we held another Zoom meeting with a respected photographer. Martin Patten is from the Watford region, and as you can see from his distinctions, is distinguished.
His talk was called "Planning Photgraphy, not Grazing" and the basic message was that the best images come from careful planning of the Why? Where? When? and How? As a result his talk was full of practical help on most genres of photography from wild-life to macro. For example, Martin wanted photographs of puffins with sand eels, so he found the best place, the best time of year, the best time of day and the best equipment. As a result, he has wonderful images of puffins.
Martin gave many "Quick Tips" related to most genres of photography. Maybe the principal one was "Work the scene" by which he meant look for better angles, better light better composition. One image is not enough – that is a throwback to film days. With digital, many images can be taken with slight adjustments to the angle and thee composition. Do not rely on later manipulation to get the best image. He was also keen on photographers knowing their cameras, and how to make adjustments without having to consult the instruction manual.
In summary, this was a talk that would interest experienced, intermediate and beginners, So much helpful information, interspersed with exquisite images. It was a pity so few members attended.

Martin Patton's Summary Slide..
WDPS ZOOM Session, 27 July 2020

Gareth Martin, AWPF, CPAGB

Images in the Making, Starting and Finishing Images

.With coronavirus regulations still in existence the WDPS held a talk session by Zoom on Monday 27 July. The speaker was Gareth Martin, AWPF, CPAGB from South Wales. Gareth is a stalwart of the Welsh Photographic Association, but it is the necessity of Zoom meetings that enables the WDPS to take advantage of his experience.
Gareth claims to be a non-purist photographer and this showed in his presentation. He showed both the original photographs and the final outcome of many of his successful images, but also included some that "only scored16" so the rest of us could relate to his work. He also told us which software he used, which manipulation techniques and which filters. It was not intended to be a teaching session, but this information would help all members.
One of his favourite techniques was to use the "Grunge" filters that many photographic workers disdain. Some of his work could be described as "minimalist" and others very low-key. The saturation control was usually moved down, not up! Another unusual feature for portraits was to concentrate on the hands and not the face. This still revealed a lot of the character of the sitter. Another surprise was the number of images featuring toilets and Gareth's skill in framing the composition. He told us that he was never apprehended for taking a camera and tripod into these enclaves of privacy.
A successful and very different evening.
I suggest a visit to his Facebook page, facebook.com/pg/34gareth.martin/photos/?ref=page_internal



,Bunty is a Good Read, by Gareth Martin, AWPF, CPAGB
All WDPS meetings from 16 March are cancelled because of Coronavirus


Zoom Activity.

The Wrexham and District Photographic Society is continuing to be active during thisCovid19 shut-down period. We are holding a series of informal competitions on our Facebbok page. A topic is defined and for two weeks images can be posted on the site. Then, on alternate Monday evenings at 8.00pm a judging session is held to define a winner. That winner then sets the subject for the next two weeks. This activity has proved popular, usually with about 30 entries. However, only a small number of members are regular entrants; we would encourage all – this is open to the public – to look at this.


We are also holding a series of four Zoom talks starting late July going through to the beginning of September.
Monday July 27th
- Gareth Martin
Images in the making. Starting and Finished Images

https://www.flickr.com/photos/125944788@N03/50018676793/in/datetaken-public/

Monday August 3rd
- Martin Patten
- Improving your photography. Planning Photography, Not Grazing

Monday August 17th
- Simon Van-Orden - Chasing the Lights
www.wildearthpictures.co.uk
Monday September 7th - Paul Stanley - My Photography covering recent Travel, Long Exposure.
http://www.dublincameraclub.ie/




2019-20 Image of the Year Competition.

It is not a normal year because of the Covid19 epidemic and the subsequent lock-down. Nevertheless the Wrexham and district held the most prestigious competition of the season – The Image of the Year.. for this competition images used in previous competitions in the past season can be used, so a very high quality of entries is expected.

Because of the lockdown only PDIs could be used. These were emailed to our competition secretary, who in turn organised them and sent them electronically to the judge, Steve Carr. Steve then judged each one and gave a mark before deciding the eventual winners in the monochrome and colour sections.


On Monday 11 May we held a Zoom session at which the images were shown and the judge's comments and mark read out by Chairman Les Flower..We had 20 members on line which is about the same as we get at meetings at the Rail Club so this method of holding meetings is quite popular. It was not the same as having a real live judging evening lacking some of the informality and the rather more extensive comments usually given but still an opportunity to "meet" WDPS members.

The winner of the monochrome section was "You really take pictures with that" by Gwilym Jones. This image shows a lady holding a simple box camera. The colour section was won by John Hallard with "Little Swans", a study of two young ballerinas. These images, together with second and third placed images can be seen in the Gallery section of this web-site.
.


Monday, 27 April 2020.

Julian Elliott, Travel Photographer


This was a video meeting as required by the Coronavirus, but nevertheless enabled the WDPS members to look at some of Julian's fabulous images. He is a professional freelance photographer currently living in France.

In his opening remarks he explained that one of his objectives was always to "get it right in the camera" and not to rely on later computer manipulation. This was a welcome introduction; these days many if not most photographers, (even us) spend a lot of time at the computer. For more information on his philosophy consult his web-site https://www.julianelliottphotography.com

His talk was on a journey to Mongolia, a country which he explained was 6 times larger in landmass than the UK, but the most sparsely populated country in the word. Julian started with a few images of the capital, Ullaanbaatar where nearly half the population of the country live. He compared the apparent riches of the high-rise centre, with the shanty town of the suburbs. The main Ukhbaatar Square. is impressive and compares well to squares in other major world cities.

Julian then moved on to the vast unpopulated grassy steppe and desert. He explained that the vastness makes getting representative images difficult, the horizon is so wide. It also explains his recommendation of a 100-400mm lens as best for travel photography; it foreshortens the horizon and can allow close-up images at a distance. (He also uses a 24-70 lens) Furthermore he uses a Tilt-Shift lens for landscape photography. Most of us think these lenses are for architectural photography. Julian explained these lenses enable him to get foreground and background in focus, when there is a considerable distance between them. Dedication to detail.

The final section of his talk covered the Eagle Festival, probably the best known event in the country, even though the numbers contributing and attending are small. The photographs were astounding, showing both the docility and the ferocity of these giant birds and the amazing horsemanship of the locals.

The only disappointment of the evening – the small number of WDPS members joining in the Zoom session.

Mongolian Eagle Hunters, by Julian Elliot.
Sharon and Rob Prenton-Jones, .13 April


We had a very interesting meeting on the evening of Monday, 13 April ar our usual time of 8.00. However, this was very unusual – it was remote with Zoom bringing speakers and members together.

Rob started the evening talking about and demonstrating how he develops ihs "composite picture". He meticulously plans each of the images he is going to use, ensuring the light is in the correct direction and softness, reminding us that the highlight in eyes is the indication of direction of the light. It is also important in the individual images to consider the background so that it can be easily selected for removal if necessary. He continued to illustrate how the various images are combined with the use of textures to add character. At the end of his section he demonstrated using one of Les's images ho w relatively easy these techniques are, even putting lighted windows into a church ruin.

Rob did mention that one of his composite images took 11 months to get all the original files together!

The second half of the evening was taken by Sharon illustrating the complex facilities incorporated in Photoshop for constructing and improving images. In particular we were impressed by the method she has for adapting the depth of field, how to insert shadows to "ground" parts of the image, how to improve detail. She also finished by demonstration on an image by a WDPS member, this time Eddie, whose image of cloth dying yards in Morocco was noticeably improved. (It wasn't bad to start with, Eddie)

The noticeable advantage of this type of Zoom demonstration is that we, the audience, see exactly the same screen as the person demonstrating the techniques. This makes it much easier to to see which tools are selected and how the process develops. There were about 20 members joining the group, and we all learnt a lot.

Rob and Sharon have a web-site https://www.prentonjonesphotography.co.uk which gives details of the workshops they hold. Although these are postponed for the duration of the Coronavirus lockdown, they should form a very valauable insight for anyone interested in advanced Photoshop methods of Composite Photography.

WDPS is going to have another Zoom evening at 8pm on Monday, 27 April when Julian Elliot will give a talk on his trip to Morocco. These sessions are well worth joining, and yo can do so without venturing out of your front door.
WDPS ZOOM Session, 2nd April 2020.

.Coronavirus has shut down all the meetings for the time being, so WDPS has been experimenting with video meetings using the well-known ZOOM platform. Members who want to join Zoom can do so by downloading the App for free. It is not necessary to take the extended version, just the basic free system. It works by entering a code and meeting number to the home page, and you find you are on a video link to the rest of the members who have logged in to that meeting. Thanks to Les flower for organising all this.
At this video meeting we viewed, and commented on, the images that had been entered for the first of our "Out of Season" Facebook challenge. There were 41 entries from 14 photographers. On the subject of "Bridges"..Entries ranges from rustic simple stone bridges in Snowdonia to grandiose iconic bridges such as the Golden Gate. Choosing a winner was not easy. Should the winner be photographically the best composition, the one with a good storyline, a moody one, a happy one? The chairman – who had set this subject had the right to pick the winner and most – but not all- agreed that Gwilym Jones's "Tower Bridge" met the requirements. All the entries can be seen on Facebook.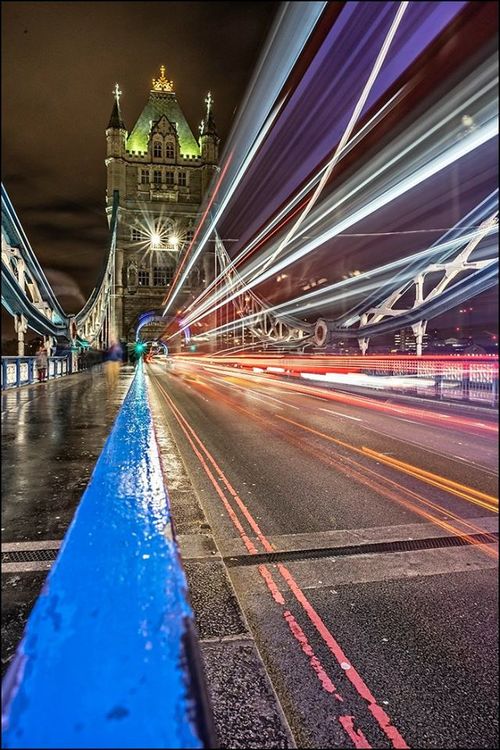 Tower Bridge, by Gwilym Jjones

We agreed the format was quite acceptable, although if there is a large number in the Zoom group curtailing conversation to a "one-at-a-time" discipline might be difficult. WDPS will use this format for meetings again. Keep an eye on this space.


Peter Clysdale Trophy (Monochrome)
On Monday, 9 March we held our annual monochrome competition for the Peter Clydesdale Trophy.

The entry into the print section was sparse, only 15 images were submitted, although all of these were of excellent quality. There was a better entry into the PDI section, 65 images submitted. I think this shows that more and more of our members are turning their backs on prints. This is unfortunate – a print always looks better in detail and texture than a projected image – and you can't hang a PDI on a wall or even sell one if that is your intention.. Why not try printing. A4 prints can be entered in the WDPS competitions.

Nevertheless, our judge for the evening, Chris Kay clearly had difficult decisions to make. Eventually he decided the winning print was " Interrogation" by John Hallard, and the winning PDI was "Horses" by Mike Mason. Congratulations to both – and all the other entrants.

"INTERROGATION" by John Hallard, Winning Print.




"HORSES" by Mike Mason, Winning PDI.


Three Way Competition, 2nd March 2020.

On Monday, 2nd March the Wrexham Society hosted the annual three way competition between Wrexham and the Photographic Societies of Whitchurch and Oswestry. This was a well attended convivial evening even though the rivalry is well defined. Each organisation submitted 20 PDIs which were reviewed in a random order and awarded a mark out of 20 by the judge, John Dougherty. He did this with clarity, giving helpful criticism and suggestions, where appropriate, on improvements – usually cropping.

He gave four images the maximum mark of 20. These were "Red Squirrel Feeding" by Chris Goody and "With Style" by Mike Gibbons, both of the Whitchurch Photographic Society, and "King of the Kalahari" by Celia Todd and "Portrait of a Rose" by Diane Smith, both of Oswestry Photographic Society

The final result was a win for Whitchurch with 357 points. Wrexham was second and Oswestry third..

At the end of the evening representatives of both the visiting Societies thanked Wrexham for the hospitality

Congratulations to all.


Creative Competition for the Glyn Jones Trophy...
On Monday 24 February we held our annual Creative Competition for the Glyn Jones Trophy. Glyn was one of the first to embrace digital techniques in the WDPS and this competition has been held for many years following his death. In the early days image manipulation was rare and this competition encouraged the members of WDPS to be more adventurous. However, these days almost all images are manipulated in some way, so the definition of "creative" has been expanded to include those images where the creativity has been used in the form of a new angle, cleverly places still life subjects or some street photography.

This gave the judge, Ian Stewart a complex task to separate the best of the entry of 55 images from those not quite so good.. The eventual winner was Paul Shone with "Distorted Time".
>

Distorted Time, by Paul Shone, Winner Creative Competition.



Rob and Sharon Prenton Jones, Monday, 17 Frbruary.

On Monday, 17 February both Rob Prenton Jones, EFIAP/g, BPE4*, and Sharon Prenton Jones FIPF, ARPS, DPAGB, ABPE, EFIAP/g from Conway gave talks nominally on "How to Develop you own Style of Photography " They were both excellent and entertaining speakers with much practical advice – mainly on how to enjoy photography.

Rob said that we should enjoy the preparation and planning for an image as much as the final result. At the moment his interest is in the Dutch Old Master's portrait paintings, and how to reproduce these photographically. Since the lighting in the originals is often a solitary candle, this poses some problems, but Rob explained how this could be overcome. However, the main approach is to have fun and not be afraid of making mistakes.

He also highlighted the differences in images destined for the Salons, from those to be entered for club competitions. The former have to have immediate impact, the latter can be more subtle. And judges are there to help the photographer, not destructively criticise the work.

Sharon gave us an insight into the amount of Photoshop manipulation that went into their final images . She gave a hands-on demonstration with much practical advice.

However, Rob and Sharon have converted their dining room into a photographic studio. That would be a step too far for most of us!
Jason Wharam on "Alternatives to Photoshop..

On Monday, 10th February, Jason Wharam, a member fo the WDPS, gave a talk with demonstrations, on "Alternatives to Photoshop". The variants of Photoshop are the most ubiquitous tools for image manipulation, but also the oldest despite frequent updates. Other image manipulation software packages can be easier to use , and more suitable for routine tasks. Jason described and demonstrated a few of these, Affinity Photo ,Luminar 3 or 4,Photo; Lemur 3, DXO Photo lab, DXO Nik Collection, Topaz Lab and Studio,Polarr Photo Editor. Some are available as plug-ins. Affinity is available with a 25% discount until 10 March. Contact this web-site for details.


February 3rd, 2nd Internal Competition..
On Monday, 3rd February the Society held its second internal competition of the season. There was a total of 81 entries divided between the four classes, Colour Prints, Mono Prints, PDIs(Advanced) and PDIs(Intermediate) The judge for the evening was Bob Dennis CPAGB APAGB AFIAP BPE4,
He examined each image in turn and made helpful remarks, mainly about cropping to remove uninteresting parts of the image, or those areas that did not add to the story. His advice also included to keep things simple.
His conclusion was that Pine Martin by Simon Roberts was the best Colour Print, Slipperstones by George Griffiths was the best Mono Print, Unicorn at Sunset, also by Simon Roberts was the best Advanced PDI and Tobermoray by Helen Willows the best intermediate PDI.. All the placed images can be seen in the Gallery section of this web-site.




Pine Martin by Simon Roberts.

Tobermoray by Helen Willows


Competition with Marchweil Photographic Club..

On Wednesday, 29 January there was an interclub competition between the Wrexham and the Marchweil clubs, held at the latter's venue on their club night. Both clubs entered 15 prints and 15 PDIs, and an external judge marked each. The standard was high with a number of the Wrexham images gaining the maximum of 20 points. The overall result was a win for the Wrexham Society in both sections.

A night with Graham Blackwell, "Travels with my Camera"

On Monday, 27January the WDPS President,Graham Blackwell, gave a talk called "Travels with my Camera". This could have been a selection of holiday snaps, but Graham had organised them into a series of AVs, each one covering a particular journey. Since Graham and Ruth have journeys to many parts of the world the AVs covered varied places, including New Zealand, the Greek islands and Monet's Giverny gardens. It was an inspiration to see how a simple holiday series of images can be welded into an AV with a storyline. We look forward to more information on the production of AVs by Graham later in the season.



Straight from the Camera competition, 21 January.

There was a good turnout for this competition even though we were forced to change to day from Monday to Tuesday. This competition was initiated in the early days of digital photography, when established film photographers thought that digital manipulation would dilute the skill required to get the image right in the camera. No manipulation is allowed, except cropping, which reflects standard film techniques
.
Seventeen members contributed a total of 79 images, and the task of marking them fell to WDPS long-time member, Bill Buck. Bill was able to comment on each image on measures he thought would improve them within the rules of the competition, so obviously this always involved more subtle cropping.

Eventually Bill decided that "I am a music man" by Paul Richardson was the best image, with "V-Power", by Reg Whitam, and "Got a Light" by Les flower close behind.


I am a Music Man, by Paul Richardson
V-Power by Reg Whitman.





13 December, Nature in Focus, by Tony Pioli.
On Monday, 13 January we had a very impressive talk by Tony Pioli, FRPS, FPAGB called "Nature in Focus" This talk was entirely on slides and reminded us of the depth of colour that slides can bring. Toni's skill is not only taking the photographs – remember that with slides you do not get as many chances to get a good photograph as with digital, when you can take hundreds in a matter of a few minutes without hurting the pocket book.- but also finding the location of rare animals, birds, fungi, flowers and insects. A truly remarkable set of memorable images. In fact, probably too many. Overwhelming.




January 2020, Simon Roberts, "Mostly Bearing North"..

For the first meeting of the new decade, Simon Roberts, a WDPS member gave an illustrated talk that he had punnishly called "Mostly Bearing North". Yes, there were plenty of images of bears and it was mostly in the cold and frozen north. However, other wild life, arctic foxes, snowy owls for example made an interesting contribution.
Images of polar bears were probably the most interesting because this species requires the most determination from photographers, and is the most dangerous weighing in at up to 700kg. The expedition requires an ice-breaker, smaller boats designed for operating in ice strewn oceans, and an armed guard for emergencies. As with all bears there are regulations to limit approach and feeding designed to prevent the bears becoming dependant on humans.
Images of brown bears feeding on salmon might be the easiest, since the location and timing of the feeding can be predicted. However, as with much wild-life photography, the quality depends on the patience and perseverance of the photographer. Simon has shown us what can be achieved. A truly exceptional presentation.




2nd December, Second Themed Competition.

On Monday, 2nd December the WDPS held its second themed competition. The theme was "Weather" and this attracted a wide range of entries, from storm scenes to tranquil gentle landscapes. We have "weather" all the time. The judge was Sam Chaloner who gave comments and a mark for each image. The standard was so high that he gave four first place, two seconds and three thirds. All these images can be seen on the Gallery section of this website.. The first four are shown below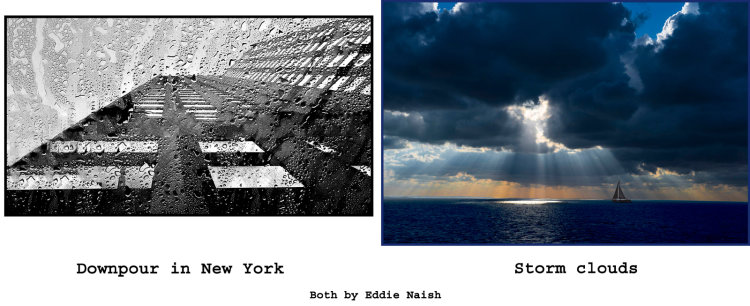 Phil Chadwick DPAGB AFIAP AWPF BPE5. 2nd December.
In a return visit Phil Chadwick gave a talk titled "My journey to 5 Crowns". The 5 Crowns in this title refer to the level – the highest - that Phil has achieved in the British Photographic Exhibitions awards. He explained that points are awarded at affiliated National Exhibitions, and when you get to a total of 300 points, the 5 Crowns level is achieved. This gave a reason for Phil to show us many of his accepted and excellent images.
He also explained how many had been improved in post-production manipulation by changing the background, adding parts of other images or changing the colours. One "manipulation" new to me was to slightly increase the size of eyes in a portrait to give greater impact. The camera never lies, but I am not so sure about the final image.
Nerveless, a cascade of wonderful images, and we all know a few more tricks. Thank you, Phil.
More information on BPE awards from their web-site http://www.britishphotographicexhibitions.org.uk



Judith Angel on Magical Myanmar.
On Monday, 25 November Judith Angel gave an illustrated talk on Magical Myanmar, sub-titled, on account of the name variation, Beautiful Burma.
Her images centred on the main cities and the River Irrawaddy and showed both the richness of the various temples and shrines and the relative poverty of the suburbs and agricultural areas. The Buddhist Shrine of the Shwedagon Pagoda in Yangon, formerly Rangoon, is particularly impassive, although Judith regretted missing images at either sunrise or sunset. Images of the people, particularly children emphasized the importance of religion in everyday life. It was a very interesting talk..


The NWPA PDI competition, 16 Novemebr 2019.
I am pleased to be able to report that the Wrexham & district Photographic Society came second in the Annual PDI competition held by the North Wales Photographic Association . Fourteen clubs entered; Mold came first with 96 points and WDPS had 94. There were 5 clubs with over 90 points, so it was a close competition. As a result of this success we are invited to represent the NWPA at the PAGB Annual inter Federation PDI competition in Warwick next summer..


The Annual Quadrilateral Competition..

This competition is held with one representative photographic club for each of England, Scotland, Wales and Northern Ireland. The respective clubs were Corby, Hamilton, Wrexham and Ards.
The PDIs from each club were viewed at each CLUB, AND JUDGES BY AN EXTERNAL JUDGE. The aggregates were then compared to arrive at an overall winner.
The results show Ards Camera Club overall winner with 1045 points, Hamilton Camera Club was second with 1007 points. Wrexham and District Photographic Society had 1005 points, and Corby Photographic Club had 960.
Comparisons of the points given to each image by the four judges showed some surprising variations. One judge might give an image top marks (20) but the same image scoring lowly by other judges. However, in other cases all the judges agreed. This shows how subjective judging can be.




First Internal Competition. 4 November 2019

Last Monday, 4th November we had our First Open Internal competition. The judge was Phil Chadwick, DPAGB AFIAP AWPF BPE*4. There was a fairly modest entry with 17 entries into the Mono Print section and 22 into the colour print section. The PDI section attracted 11 novice and 32 advanced entries.
The judge commentated on each entry, explaining what he liked, what distracted from the image, and what might be done to improve it. Improvements – occasionally advice on taking the images at a different time of day, but usually improvements that could be done by software. These included a slight vignette, to take the eye to the centre of the image, or a slight reddening to improve the colours of autumn landscapes.
The complete display of the placed images are given in the Gallery section of this web-site. The winner of the Mono Prints was George Griffiths with "Number 22", of the Colour Prints was John Hallard with "Bonnets". The winner of the Novice PDI was Paul Shone with "I'll Shoot" and of the advanced PDI was Gwilym Jones with "Plas Power Weir". Congratulations to all. .
.


Winning Image of Colour Print Section
"Bonnets" by John Hallard Image, .


Mike Blackburn on "Snowdon through the Seasons" 28 October 2019

Last Monday, 28 October we had an interesting and instructive talk from Mike Blackburn. Mike had been a surveyor for the Ordnance Survey for many years, so had visited many countries during his career. However he still regarded Snowdonia National Park as the prime area for landscape, history and flora and fauna, so his photographs were taken with both a professional and hobby interest. Strikingly, all his images were on film slides even though he has gone digital. Viewing slides was itself an education. The colours were rich but lacked some of the sophistication of digital (i.e., cloning distracting bits out).
Mike also brought some one metre square prints from aerial photographs of the district to show the detail that could be seen in both colour and monochrome images.
His main message was that we had Snowdonia on our doorstep, and we should never miss the opportunity to visit and photograph. Gardens, hillsides, rocks, lakes, forests, quarries and so on all present opportunities.
.


TABLE-TOP EVENING, 21 October

Last Monday, 21 October we had a popular "Table-Top" meeting where our members were invited to bring their cameras and accessories to photograph a number of dioramas. There were 5 of these, the most popular one depicting objects on a "Hallowe'en" theme. There was also a portrait opportunity with a witch.
.





Image, by Eddie Naish.

Table-top evening Portrait of the Witch, by Paul Shone.

Table-top evening Hallowe'en Mask by Adam Crump.


First "7 October, talk by Terry Hewitt"

On Monday 7 October we had a talk from Terry Hewitt titled "Know your Camera, Know your Photograph"

Terry recognises that cameras are becoming increasingly more capable, but this advance is mirrored by increased complexity. The modern DSLR has many more features than most photographer use or even need. He didn't advise reading the complete instruction booklet since this will extend to well over 100 pages, but to be selective and decide which features the photographer is likely to use.

His first recommendation was to decide on those variables which only need to be changed rarely. Obviously these include date and time, RAW and/or JPEG, file names and format, image number sequence and so on. Factors such as White Balance, Focussing mode, Bracketing, will only need to be changed for special circumstances. However, the photographer should become very familiar with the adjustments of aperture setting, exposure time and sensitivity since these may need to be changed when shooting images – and may need to be changed quickly. Even relatively simple "travel" cameras have all these adjustments.

Terry handed out a simple exposure calculator and a (tongue in cheek) list of 40 questions to be asked before taking. The final question is "Have I just missed a great shot, because I was too concerned with setting the camera?" Point and Shoot, then worry about camera conditions for the second shot.

See http://digital-photgraphy-school.com for the 40 questions.
.


First "Themed" PDI Competition, STREET PHOTOGRAPHS"

Last Monday, 30 September we had our first competition of the year. This was a "Themed" PDI competition with the subject of "Street Photography". The Judge was Robert Millin MFIAP, FBPE, EFIAP/p, MPSA, SPSA, DPAGB of the Wigan 10 Club.

There were 49 entries covering a wide range of subjects. The definition of Street Photography had not been given so some images may, in other competitions, been outside the specification. However, Robert went through the images thoroughly, giving opinions on the quality and story of each. Of the 49, 17 were held back for further review but eventually he decided on the top three. The winner was a shot of a complex traffic jam in Delhi taken by Gwilym Jones. The three placed images can be found in the Gallery section of this website.

What did we learn of Street Photography? The story is important and the background should not distract from this. Often there is too much background or inconsequential sky. Monochrome often works but this should not lose detail.

Storyline - Street photo of two paving slabs. Slab 1 – I feel downtrodden, Slab 2, Better than being uplifted..

Next week we have a talk by Terry Hewitt on "Knowing your Camera, Knowing your Photography". As cameras get increasingly complex understanding what they can do is getting more difficult. Or do you use your expensive DSLR as a point and shoot box?
.



Getting Nowhere Fast, by Gwilym Jones.



Ian Whiston, 2 Sept 2019

The new Season started with an inspiring presentation by Ian Whiston, DPAGB, EFIAP, BPE5*, who showed many images from his frequent expeditions to East Africa National Parks. The images were better presented than the commentary, but nevertheless showed the life of the animals and birds – and the explorers. The most striking pictures were those illustrating the Wildebeest Migration. He also gave some technical information behind his photography, fo example, working with aperture priority.




NEW SEASON 2019-2020

The new season starts on Monday 2nd September at 7.30 for 8 in the Wrexham Rail Sports and Social Club.

The speaker will be Ian Whiston, DPAGB, EFIAP, BPE5* of the Crewe photographic Society speaking on Kenya's National Parks. Ian has made 14 expeditions photographic in various National Parks and the quality of his work reflects his enthusiasm and his experience. An evening not to be missed. Please come and bring a friend. New members welcome – you will see the level of expertise available through the Wrexham and District Photographic Society.


The Facebook summer sompetition continues to attrach considerable interest. The subject "Flowers" brought in 79 entries, Letteres brought in 26, numbers 26, Teeth, 42. Welsh Landscapes, not surprisingly, has attracted thelargest entry to date, 84. Keep an eye on this at the WDPS Facebook site.