There will be no meetings at the Rail Club until September 2021 at the earliest.
The 2021-22 Season will start in September 2021. Details will appear here as soon as these are known..


WDPS ZOOM Session10th May 2021

The WDPS held its annual "Image of the Year" competition. This is usually restricted to images taken during the season just ending, but because the Covid restrictions meant that many members had not been as active as in earlier years. Images from the 2019=2020 season were also accepted. For the colour section there were 59 images from13 members; for the mono section, 42 from 11.
The judge for the evening with the difficult tak of separating these images was John Smith CPAGB, APAGB, but he did so with skill and experience, with many helpful comments on how individual images might have been improved. In the colour section he held back 13 images for further consideration and comment, and in the Mono section he held back 11, indicating that there was serious competition for the top places.
In the colour section he eventually chose Dipper by Simon Roberts, and in the mono section he chose Reaching Out By Eddie Naish. The first, second and third images in both sections are in the Gallery psge of this web-site.


Dipper, copyright Simon Roberts.


WDPS ZOOM Session10th May 2021

Lee Sutton, "My Photographic Journey".
Lee is a very succesfu photographer living in Preston. His "journey2 has been remarkedly short compared with mnany members of the WDPS – he only syarted in 2008. His success can be judged by his distinctions - MPSA, DPAGB, BPE5*, LRPS, EFIAP, ADPS, GPU Crown 3, GPU Zeus, A-Cpe, A.APS, GAPU.
Unlike many other highly regarded photographers Lee is happy in a wide range of genres. He showed examples of portraiture, landscape, nature, macro, creative, studio, sport and street photography. In each he is prepared to go to whatever lengths are required, and prepared to learn the associated skills. Perhaps the most exciting was the application of creative skills to his studio work, resulting in striking images
There are probably several skills that are fundamental to his success, Knowing the camera and equipment is one, but so are knowing the software, knowing the audience and, basically, having imagination and dedication. In addition he is a very entertaining and humourous speaker, with many a tale to tell. A great evening.



Hatter in the Bottle, ,copyright Lee Sutton..


WDPS ZOOM Session 26th April 2021

Terry Hewitt – Camera RAW, What, Why and Should I Bother",

Terry Hewitt last addressed the WDPS in October 2019 when his subject was "Know your camera". This talk could have been titled "Know your software"
He explained how the RAW file has much more information than a JPEG file, but the RAW files from different makes of camera were different. This means that there are different sets of software to deal with each camera's RAW output although the Adobe Camera RAW module can deal with most. There is an advantage to use, where possible, the DNG option since this is a widely recognised RAW file structure.
The basic information captured by the camera is of light levels to individual red, green and blue sensitive sensors at each of the many pixels. Internal camera electronics does some interpolation, or "demosaic" actions, calibration etc and produces a RAW file. If the camera is set to record only JPEG, this file is converted internally. Both, or either, RAW and JPEG can be recorded on the memory card for subsequent interpretation, but the former uses much more memory.
The advantage of working with RAW files is that there is much more information in them and the dynamic range is greater, which means that subsequent manipulation can be much more dramatic. The disadvantage is that the file sizes are larger and computational times increased..
This was a fascinating insight into the mysteries of camera files and how they can be utilised. Shooting in RAW is the safest option because all the information is there.

WDPS ZOOM Session 19 April 2021

Chris Upton: Thoresby, The end of the Mine.

This evening was the "Chairman's Choice", held each year to allow the Chiarman to select a subject reflecting his interests. This year Chris Upton, with "Thoresby, The End of the Mine" was selected by Les because in the past Wrexham had been a mining area and its mines had closed. Many of the WDPS members remember the mines, and had relations who had worked in them

Chris Upton, who is a photographer based in Nottinghamshire knew that the mine was due to be closed, so sought permission to create a record. After the required permission he was allowed to visit and photograph the site although restricted to above ground activity.
As usual with Chris – see the report of his talk to WDPS on 25 January - he plans his photographic journeys meticulously, and after the first visit knew his targets for the second. In the end he made numerous visits recording the destruction of the historic mining facilities. The mine, which was initially sunk in 1925 closed for ever in July 2015. At its peak it was mining over 1,500,500 tons of high grade coal a year, but from the late 90s it was running at a loss so the decision was made to close it when current contracts had been met.
Chris was impressed (right word?) by how dirty everywhere was with coal dust and the general dilapidation of the workings. His photographs show this, but also show that the work force were generally content and the camaraderie was impressive, even though most knew they would be redundant in the middle of 2015. A reminder that mining villages always have had a team spirit.
All his images were in monochrome since this suits the subject matter, especially as the high-viz colours of the workforce would attract the viewers' attention.
Eventually Chris produced an exhibition and a book, both of which were very well received. The book is now out of print, but many of the images he showed us can be found on his web-site, www.chrisuptonphotography.com

This was a very enjoyable evening with an excellent speaker and a range of images showing many faces of the mining industry.


Thoresby Colliery, by Chris Upton.(copyright).
The Peter Clydesdale Mono Competition.

This mono competition is an annual event in the WDPS Programme. It, and the cup that is awarded, is named after one of the founder members of the society.
The judge for the evening was Ian Stewart, ARPS, DPAGB and there were 69 entries from 15 members. A wide variety of subjects were included which must have made selection difficult. However, Ian chose the first, night at the museum by John Hallard, the second, Tulip by Graham Balckwell and the third, Addressing the Crowd by Adam Crump with confidence, these representing three very different genres. He also gave 22 entries the bottom mark of 12 – not so popular but part of the learning curve.
The winning entries can be seen in the Gallery section of this web-site.

WDPS ZOOM Session 29nd March 2021

Susan Clark on 175 Years of photoshopping.

Susan Clarke LRPS, CPAGB, AWPF gave us a very puzzling title, but she has used "photoshopping" to mean any manipulation after the image had left the camera. The title enabled her to go back as far as the mid 1820s when the daguerreotype was developed, and image manipulation very difficult, but as photography progressed to plate, both wet and dry, and then to film, image manipulation became more common. Early daguerreotype were improved by applying coloured powders, but later hand colouring with crayon or water based paints were used 0n prints. The progressing of photography to glass plates and then film enabled this colouring process to improve although it was still only a single image. There are examples of life-size coloured portraits. Colouring, of course became obsolete with the development of colour film on the mid-20th century.

The other major and widespread image manipulation was photomontage. In these processes, photographs either negatives or prints were cut up, the various sections reassembled, re-photographed and processed. This was mainly used to insert or remove people from images, and was very noticeably a political tool as politicians went in or out of favour. There were darkroom techniques for improving the sharpness of images, which is where the "unsharp mask" process gets its name. Darkroom techniques were time consuming, and not always convincing.
Another widely used and delicate process was drawing with pen or brush on negatives or prints with Indian ink to improve the contrast
The coming of digital photography and computers has made all these operations much simpler, although still can be time consuming. However, the further progress to use artificial intelligence is going to make the processes even simpler. "Photoshopping" has come a long way.
Susan gave the talk with much enthusiasm and an amazing depth of knowledge. A very recommendable presentation.

WDPS ZOOM Session 22nd March 2021

Catherine Knee, LRPS on Reality is Overrated

Catherine Knee is a well established and highly regarded photographer from Leicester. She regards herself as a Photographic Artist, and claims to be addicted to photography. Her interest is in generating emotions with her images, be that tension, fear or magic and so on, even disgust. Consequently her images cover a wide range from angels and devils, surreal costumes, and even cruelty to Teddy bears. She is, she says, not interested in reality, or processing her images to please photographic club judges
Many of her images start with a photo- session with a model, but even at the early stages she has the final outcome in mind and explains this to the subject so that the appropriate pose and expression can be obtained. However, much work is in image processing, using Photoshop or Lightroom and here her expertise results in the impressive images that she showed to us. These unique images illustrate her highly distinctive and recognizable style, moving the subjects away from "Reality" into space created by her vivid imagination.
Catherine has a web-site at www.catherineknee.uk on which some of her images can be viewed.




WDPS ZOOM Session 15th March 2021

WDPS Creative Competition, judged by Bill Preston

The annual WDPS Creative Competition was held on Monday 15 March with Bill Preston as the judge. There were 57 entries showing a wide variety of topics which made Bill's task difficult, but rewarding. He has several criteria, the photographic content should be exemplary, focus, expose and the other photographic elements, but the image should also show creativity. Simple creativity, such as turning a colour image into monochrome did not impress him. He also need to understand the title, so those that referred to Star Wars or other cult media activities did not convince him. However, he did recognize that the creativity could be in camera or in post processing.
All will agree it was not an easy undertaking, but Bill managed to hold 18 images for further consideration. Of these 3 were given 20 points, 2 were given 19 and a further 5 were rated 18. However, of the three 20 point images he chose Alien Abduction by Gwilym Jones first, with Eddie Naish taking second and third with Orbicular Creation and Collie Sheep respectively.
It was a very enjoyable evening, even though most entrants went home (being Zoom they were already there!) empty-handed.




WDPS ZOOM Session 8th March 2021

We had a fascinating and instructive evening on "Street Photography" by Joe Houghton on March 8th. Joe is a Dublin photographer living at the moment in the UK, but has excelled in many genres, but his relatively recent involvement with street photography results from traffic delays in Dublin. He explained that when starting on street photography he was reticent to ask for approval from his subjects, but found that most, if not all, of them were delighted.
He has a well developed style, always works in B&W and prefers a square format. Many might say that his images, with high contrast and detailed textures, are "grungy". They might be, but these images are very effective, impressive and evocative.
He prefers small cameras since the normal DSLR is too obvious and now used a Fuji XT2 mirrorless camera which has an articulated screen. This enables him to take photographs from different viewpoints that are not as obtrusive as eye-level operations in Street Photography. Joe also works in a manual mode even though he often requires a quick response as a critical moment appears.
The second half of his talk was a demonstration using Lightroom and Nik Silver Efex filters of how he arrives at the image he requires and an image which emphasizes the storyline.
In all, an instructive and entertaining evening, well illustrated by a speaker well used to public speaking and Zoom presentations, that will encourage us to take a new look at Street Photography – when we are allowed out.
See his web-site for details of other talks, courses and individual tuition.




WDPS ZOOM Session1st March 2021

Colin Southgate on "Making the Connection"
Colin is a experienced photographer, having started in the "dark room" days, but amongst his varied interests is the connection between photography and the Vorticist Art (about 1910 to 1920) movement. The most prominent feature of Vorticist art is hard-edged abstraction. Much of Colin's talked was based on this. Colin's approach is to take an image of a relatively simple but contrasty structure and then use photomanipulation techniques to overlay, slice, reflect and use various merging modes to produce an image in the Vorticist style. As he said, one may start with a simple image of a car park, and finish with an image that looks like a plane crash. He showed us many images in this genre and they were decidedly "different" and a half-way house between photography and art.
Colin also told us that because these images required a lot of experimentation with Photoshop (other manipulation software is available) it has been a ideal activity during lock-down. He demonstrated this with images derived from photos of circuit boards, some from crushed flowers, others from the chaos of the compost heap. He also gave a selection from his infra-red photography, and from his "in camera" work. All that is needed is a vivid and creative imagination, and knowledge of the complexities of image manipulation.
The images below show a part of Colin's versatility.
This was an extremely interesting evening and shows that photographic techniques can be used for much more than simple representations. Creativity is paramount and should be respected.


WDPS ZOOM Session, 22 February 2021

The Art of Composite Images, by Sharon and Robert Prenton Jones.

Sharon and Robert Prenton Jones had talked to the WDPs early in the Zoom season, and this talk followed the pattern of the earlier one.

Robert started the evening by explaining his techniques for composite images. Although he covers many genres tonight he talked about his usual approach for a single person with an interesting background, often following the examples of traditional artists such as Vermeer or Caravaggio for lighting and image content. He extolled the virtue of "Black on Black", photographing both the main content of his image and the subsidiary images against black backgrounds. This made overlaying and selecting much easier and requiring less precision. He also ensures that the main lighting in all parts of the composite image is from the same direction, but some parts, especially in the shadows, are illuminated by reflected light. He emphasized that it is the responsibility of the photographer to direct the eye of the viewer, and hence, for example, any windows should be included at an angle, stopping the viewer's attention going out of the window.

He showed many examples, both the initial partial images and the final composite, although he did admit that when looking at the final image later he often noticed detail that should have been improved.

Sharon took as her guide for the evening her recent panel of 20 images on the theme "Making of Legends". This included composite images of figures from Celtic mythology of which the background set the mood. Sharon explained – and demonstrated – how these backgrounds were developed from an original - probably landscape- image using the filters and features available in Photoshop. She also developed her own brushes for mist effects with slight colour tints to improve the feeling of the final image. Her attention to detail was illustrate by an image of a mermaid for which she has gone to the fishmongers for a fish's tail.

Below is a typical image illustrating the different style of Robert and Sharon.
More details and information on the workshops can be found on their website www.prentonjonesphotography.co.uk






WDPS ZOOM Session, 15 February 2021

2nd Internal Competition, judged by Chris Kay.

We had a very entertaining evening when the entries for the Second Internal competition were judged by Chris Kay. There were 58 entries in the colour section, 51 in the mono.
Judging must have been very difficult because of the varied nature and subjects in each section, covering most genres from close-up and still life to landscapes. In fact, after the first three, Chris put about 1 in 5 images in the Commended category, which indicated the high standard shown.
However there were first three places in each category. In the colour section John Hallard was first with "Cygnets," Gwilym Jones was second with "Talacre", and Graham Blackwell was third with "Tulip". The mono section had Bill buck's "Pontcysyllte Aqaduct" first, Gwilym Jones' "Stormy Talacre" second and "Brendan the Bouncer" by John Hallard third.
Congratulations to these authors, but also congratulations to all the other authors who entered images.
The two winning images are shown below.




WDPS ZOOM Session, 8 February 2021


Faces and Places, by Gary Langley.

We had a fascinating, interesting and informative Zoom talk by Gary Langley of Nottingham. Gary is a well travelled international speaker and judge. He covered a wide field from different genres covering portraiture, landscapes, bird and insects.
His main subject for this talk was the former. He said he visits many festivals to contact "interesting" people, in particular – for this talk – the Whitby Goth Festival. He found that short focal length lenses were appropriate since the short working distance exaggerated perspective and resulted un some distortion, but he felt that this emphasized the unusual characteristics of his subjects. He was always careful to chose an appropriate background, usually a raw brick wall. Most imges had one person, but some had two, with the foreground subject in tight focus and the background one out of focus but to give some suggestion of a story-line. Nearly all the images were monochrome, since this was more relevant to the Goth subjects and colour could distract the eye from the main subject, but where colour was used he was careful to keep the colour palette simple.
He also showed some of his bird and insect photographs. These were pin-sharp and of a very high standard though he did admit that many were taken from organised hides. Nevertheless, patience and an understanding of the birds' habits were required.
Very interesting, very informative and delivered with experience of both the script and the technicalities of Zoom. The two images below show the breadth of Gary's interests.
Thank you, Gary.


WDPS ZOOM Session, 1 st February 2021


Food Photography, by Adam Crump.

Adam has been a member of the Wrexham and District Photographic Society for a number of years, and has been always interested in food photography. He trained as a chef, so this genre of photography combines two of his interests.
The principal message that the image should not just represent the food, it also has to be interesting and enticing. The normal rules of good photography still apply, composition, a good colour palette, focus interesting textures and minimal distraction He showed us his preferred background of wallpaper, wood and even a baking tray and showed how depth of field was important if props such as cutlery or crockery were used.
He showed a variety of images to illustrate these factors leaving us impressed by the skill and leaving us salivating..


WDPS ZOOM Session, 25 Janaury 2021


The Way I See It, by Chris Upton.
Chris Upton is well respected Photographer from Nottingham who has been a full time professional for six years specializing in travel, landscape and social commentary photography. His introduction to photography was when he was walking and trekking in the UK. This talk describes how he plans and produced images.
He re-introduced us to the aperture, shutter speed and sensitivity relationships, and outlined how and why he selected these variables for different environments. For landscapes he also reintroduced the importance of time of day, particularly just before sunrise and just after sunset. He shows some excellent images to introduce these ideas.
Aperture and lens focal length have to be chosen for the depth of field required, shutter speed according to the movement, and sensitivity should be as low as possible to avoid image noise. These are fundamental concepts but can – and should- be compromised for special effects. He also introduce the use of metering compensation to avoid images that are too dark or light. He emphasized how important it was to "know your camera", an instruction that WDPS members have heard frequently in Zoom talks.
For landscape photography he introduced the PhotoPills and Photo Ephemeris Apps as invaluable giving guidance on the sun's position at any location, and thought that the Orton Effect was a little used post processing approach. An internet search will give more information on these.
However, his main message was to take plenty of photographs, to plan well and to remember that a good photograph can be obtained by luck, but an outstanding image was the result of practice.
It was an interesting and entertaining talk, full of helpful advice and illustrated by excellent images. Chris's web-site, www.chrisuptonphotography.com has more information on tours, workshops and talks. Thank you.


Images by Chris Upton..


WDPS ZOOM Session, 18 January 2021


Second Themed competition
This WDPS themed internal competition subject was "Close-up, Table-top or Macro", and was judged by Diana Magor, APSA MPSA EFIAP/b LRPS BPE3* CPAGB, of the Hoylake Photographic Society. There were over 50 entries.
Diana started by explaining her method of assessing the images by dividing the entry into three groups, and reviewing these groups at intervals. She claimed that this gave a better and fairer overall result. It was clear from her description of each entry that this worked. There was a wide selection of subjects, ranging from single flowers to complex table-top constructions, insects to grouped toys. A surprising number had bottles of alcohol in them, perhaps an indication of lockdown.
She eventually selected one image , Graham Blackwell's "Tulip" for first place, and Bill Buck's "Natural Textures" and "Sulphertuft Mushroom" as second and third. There were 10 images in the "Commended" category.


Tulip, by Graham Balckwell.


WDPS ZOOM Session, 11 December 2021


Olympus equipment ,by David Smith
David Smith is the main UK Technical Specialist for Olympus Cameras, based near Cambridge. He started by explaining that the Imaging part of Olympus had recently been sold to Japan Industrial Partners, having made losses for the past few years. This new ownership puts the Olympus Camera Manufacturing and Development activity on a much firmer footing.
Olympus Cameras have been in existance for over 80 years and are responsible for many major advances, including the first lightweight intercahngable lens systmm, the half frame fim camera and the first lenses, Zuiko, designed for digital cameras. The latest developments are incorporated in the EM1 and EM% camera s sytems include in-camera production of composite images, and even in-camera focus-stacking facilities. Using Zoom, David was able to demonstrate how easily both these features could be used.
Cameras are becoming more complex and automatic, and hence require more "driving" skill to use them. But David reminded us that the Olympus Chief Designer Yoshihisa Maitani had said "No matter how automated we make cameras, automation will not place limits on the photographer's activities. Rather, it will expand them."

Two images of a small catcus are shown below, one with in-camera focus stacking, the second one without, Camera Olympus EM1 Mk3


Catcus with and without Focus Stacking.


WDPS ZOOM Session 4 January 2021

Talk by Malcolm Hupman " An Australian Adventure with Wild Life"
We have started the year 2021 with an excellent talk by Malcolm Hupman of the Corby Club titled " An Australian Adventure with Wild Life" He showed some of his wild-life photographs taken on a eight week tour by 4x4 car in central Australia followed by a two week cruise round New Zealand. He demonstrated his wide knowledge of the birds, ranging from the huge White Tailed Eagle to the tiny, delightfully named Superb Fairy-wren. Unlike many speakers he showed maps giving the locations he visited, and included driving times between each as a guide for any intrepid photographer who might wish to emulate his trip – and with the wide divergence of birds and mammals he showed some will surely be tempted.
On the technical side Malcolm mainly used Nikon D500 and D7000 cameras with a prime 300 mm lens and 2X and 1.4x converters with manual selection of exposure and aperture depending on the subject .
His journey took him west from Sydney, Then north past Uluru and Alice Springs, then east close to Mount Isa and Ellen Creek Big Hole following the East MacDonnell range, finally looping south to the return to the Sydney region. Much of this journey was on dirt roads, and he was able to visit several aboriginal reserved for which special permission is required. One of these was the Kantu-Breakaway Conservation Park where he and his three companions rested overnight in the "dugout" rooms of previous miners
The variety of birds, many of striking colours was extensive and Malcolm introduced a few images of mammals, kangaroos and camels included. However his only image of the reclusive koala had to be taken in a conservation park.
It was a really enjoyable and instructive talk.
Wedge Tailed Eagle, by Malcolm Hupman
Superb Fairy-Wren by Malcolm Hupman
WDPS ZOOM Session11 December

December 11th would have been the WDPS Christmas Social in a normal year, but this year we had to celebrate with Zoom. There was a good turnout, even a surprising number of Santa Claus hats and celebration jumpers

The first half of the evening was a talk by John Hallard on his lockdown photography, mainly concentrating on close-up and macro photography. He explained the optimum equipment and conditions, the difference between macro photography with telephoto and macro lenses, and the use of flash. He showed couple of entertaining AVs and a series of images of insects and flowers. He also showed some of his DIY diffusers to get light from the flash to where it was required. These included the famous – at least in WDPS – the Pringle light tube.
Below is one of John's close-up images of a fly. He acknowledges that is was pure luck that the fly was looking at the aphid

The later part of the evening was a quiz desgned by Chairman, Les Flower, on historical aspects of Wrexham. Of the 20 questions a few members got 14 right, which shows how ignorant we are about our town, or how hard the questions were.. There were no prizes.


WDPS ZOOM Session, 7 December 2020


Wildlife Photography by Gary Jones..
On Monday 7 December we had a Zoom talk by Gary Jones, a North Wales resident who has been a full-time photographer for four years. He claims his main interest is the outdoors and wildlife and he only took an interest in photography to help his memory. He had been up Moel Siabod on the morning of his talk before dawn for a sunrise photograph.
His main published work is on birds, especially Ospreys and other birds of prey. These are now being re-established in the UK, even in North Wales, and Gary showed encyclopaedic knowledge of their habitat and habits.
He uses Nikon full-frame cameras and enjoys the frame rate these can give, and concludes, for his type of photography, prime lenses give better results This is apparent in his fascinating studies of ospreys diving for fish. The speed achieved by the birds is high, so the expertise in obtaining images of the bird just entering the water is astonishing.
Gary admits his favourite subjects is ospreys, but also showed us some of his images of owls, gannets and kingfishers and others for each subject he has accumulated knowledge best locations and times for these photographs. He then further stretched his horizons with images of foxes, red squirrels and badgers, the latter having been recently discovered wiyj a short walk of his home. Finally, fighter aircraft in the well known Welsh Mach Valley.
Inspiring and informative, a really good evening. Find his web-site for more images.


Osprey with fish, by Gary Jones.


WDPS ZOOM Session, 30 November 2020

First Internal Competition, judged by Sue Clarke.
The First Internal Competition attracted nearly 50 entries for the colour section and the same number for the mono section. Thanks to all members who entered for making this a successful and interesting competition.
The judging was by Sue Clark who had given the WDPS it first Zoom meeting of the season in September. We know from her remarks then that she is keen on composition, and this showed in her judging. It must be very difficult to judge when there is such a wide variety of subjects, but Sue managed very well.
She commenced by giving her broad guidelines on judging; she has to be analytical and objective with disregard for her own personal bias. The impact, construction, balance and technical competence are the primary requirements.
On the first few images Sue gave a complete breakdown of her thoughts, but once we were familiar with her approach she gave a brief summary of each and a mark in the range – rather broader than many judges use – of 11 to 20. She gave three images a 20 mark, but thought the first place should go to Graham Blackwell with "Sugar Rush"
When judging monochrome Sue said that this genre should be used when colour, especially strong colour, would detract and distract from the impact or storyline of the image, and she reminded us that mono conversion could be done several ways in post manipulation which could change the conversion of the different colours. Having assayed all the images first place went to "Finishing Off" by Bill Buck.
It was agreed tat Sue's comments were helpful and well received. The chosen images were worthy winners and all the placed images can be seen in the Gallery section of this web-site.


Winner,Colour section, Sugar Rush by Graham Blackwell
Winner Mono section, Finishing Off by Bill Buck.


WDPS ZOOM Session, 23 November 2020


Colin Harrison, New Digital Adventure..
On Monday, 23 November the WDPS had a Zoom session with Colin Harrison on "New Digital Adventure" Colin, a well established photographer from the Cotswolds, has embraced the creative aspect, and claims that even an uninteresting image can be much improved by creative manipulation and combination. It can be claimed that many of his latest images are "weird", combinations of things you would not expect, and for this, an imaginative mind is required. As an example, one of the images he showed had a small furry animal wearing skis – where does that come from? Or penguins surfing? However, some seem a straightforward, combination of, for example, rusty cars with derelict buildings and a heavily structured monochrome sky under a textured overlay
Colin is keen on re-enactments since these give the raw material for many of his montages, and come in many different forms. He also introduced Steampunk, which is the science fiction combination of images with 19th century mechanical engineering. His approach to photography of flowers, and the combination of these images, also shows considerable originality.
Some practical advice from Colin; learn how to use layers since these can be valuable for resizing and moving parts of a montage image; select only approximately and refine with a soft erase tool, don't dismiss dull days – photographs under these conditions will not have blown highlights, obtain textures by photographing paving slabs, rusty metal, hedge leaves etc.
Colin showed great enthusiasm, inventiveness and daring, but is willing to share his secrets. He is also very successful, FRPS FIPF FBPE MFIAP MPAGB EFIAP/d3 MPSA GPSA AWPF APAGB.
A fascinating and inspiring talk. Try his web-site, www.colinharrisonphotography.uk for more images


PUMPS, by Colin Harrison.


WDPS ZOOM Session, 16 November 2020


Adrian McGarry,ARPS, 0n iPhone Photography.
On Monday, 16 November the WDPS held a well attended Zoom session addressed by Adrian McGarry on iPhone Photography. Adrian was a dedicated conventional photographer involved in publishing until he moved to North Wales from Manchester a few years ago. He told us that his digital equipment is still in its packing box because he has discovered iPhone photography. He claims that the improvement in the technology, quality and software ensure that mobile phone photography has a viable and attractive future.
Mobile phones have the advantage of always being available so that fear of a "missed opportunity" is removed, they are lightweight, no more lugging a backpack of equipment up the hill, they are simple, no more mistakes (?), there is advanced manipulation simple software through various Apps, they are compatible with social media and they are versatile. He showed a number of images to indicate this versatility.
The normal rules of composition and a story line apply, but because of mobile phone ubiquitous, street photography is much less intrusive, "hiding in plain sight"
Adrian is lucky enough to be able to use the latest iPhone 12 Pro Max, which has a three lens set-up, giving normal, wide angle and telephoto facilities although these latter two are not as wide as a conventional setup could give. The internal software uses artificial intelligence to aid the user. For example, the focus area and the exposure calculation area can be different, and can be locked, which is helpful in landscape and seascape photography.
One of the concerns of conventional photographers is the ability to control depth of field, and to deliver long exposure images. Both of these worries are now overcome by software. For the former the image can be softened away from the chosen main feature. For the latter case, the camera retains a video of before and after the shutter is released and then stacks these images. This stacking has the additional advantage that the individual images can be aligned, which means the camera can be hand-held. As Adrian pointed out, no point in having a highly portable camera if you have to have a tripod.
Smart phones have internal facilities for HDR and much computational photography. They incorporate LIDR (Light Detection and Ranging) which gives the camera information on the distance of all objects in the field of view, and smart phones can automatically stitch panoramic views.
The image below shows the versatility of smart phone photography, low light long exposure and crisp focus.
Adrian has workshops on iPhone photography. Full details on his web-site.


Underground, by Adrian McGarry by iPhone.
WDPS ZOOM Session, 9 November 2020


Bill Buck on "An Alternative Light"
>
WDPS had its first Zoom meeting addressed by a member, when Bill Buck told us about his experience of both Infra-red and ultra-violet photography. Bill has many years of experience, originally on film but lately with digital. For digital infrared photography the camera has to be carefully chosen since not all cameras are sensitive in the 650 to 900nm range of the spectrum. Bill says that old cameras can be the best since newer ones have internal filters. Cameras can be modified (if you have a spare modern camera) but does not sound like a DIY job. Some modern cameras are designated "full spectrum" Similarly, older lenses can be superior because of the coatings on newer lenses. The technical part of infrared photography also requires the choice of filter some of which allow a small amount of colour information to reach the sensor.

The outcome can be spectacular. In general, foliage appears white, blue sky dark but the final outcome depends on the camera/filter combination, and, of course computer manipulation. Bill recommends that that only way to explore infrared photography is to play with your system
Ultra-violet photography follows the same path. Choice of a UV sensitive camera, or a full spectrum camera if you are also interested in infra-red, and the right filters are important With ultra-violet, many flowers in nature fluoresce, which gives a unique appearance to the images. Again the only way to explore UV photography capabilities is to play with the systems.


Infra red image of Bill's garden.
WDPS ZOOM Session, 2 November 2020


First Themed competition, Street Photography
Judged by Sam Chalinor
>

On Monday 2 November the WDPS held its first Themed Competition with the subject "Street Photography". This was judged in real time using a Zoom connection by Sam Chalinor who has been to the Club meetings on many occasions. There was an adequate entry of 50 images, but it could have been more, which had been sent by email to the Competition Secretary. Sam, who had been given a preview of the entries displayed each in turn and gave helpful comments. A number of images did not seem to qualify for a "Street" designation, and if future WDPS might be more restrictive in accepting images for competitions with a fixed subject. Sam's main advice was to consider monochrome since colour in many images distracts from the subject matter. This is particularly important in Street Photography where there can be distracting background features. In fact, Sam chose to hold back 15 images for later consideration and of these 4 were colour, and one was monochrome with a single colour focal point. In the final analysis Sam awarded 4 images the maximum score of 20 which are displayed below. When pushed, Sam said that in a photo finish – literally – he would award first place to the image by Eddie Naish. Congratulation to him and to Gwilym Jones for the other 20point images on their entries. In fact, congratulations to all entrants for their efforts, without them competitions would not exist and we would not benefit from judges opinions.
An Internal completion with unrestricted entry subjects will be held on 30 November for which entries should be with the Competition Secretary by 19 November. There will be two classes, colour and monochrome.
The next themed competition is on 16 January with "Weather" as the subject.
Competitions are only open to paid-up members of the WDPS.


.20 Point images on the Theme "Street Photography"


WDPS ZOOM Session, 26 October 2020


.Van Greaves, "Hard to Get"
>


On Monday, 26th October the Wrexham and District Photographic Society had a Zoom meeting addressed by Van Greaves. Van, from Kidderminster is a prolific traveller, professional photographer and writer with many interests. His talk was titled "Hard to Get" and showed that just understanding photography is only half the battle for getting memorable images. He travels to remote mountain locations anywhere in the world at dawn to get that special image; he chases rare birds to remote locations for that exceptional picture, understands the habits of both birds and butterflies for that distinctive record, and even goes rock-climbing for fun. He has illustrated and written many travel books often based on walks or climbs. He didn't tell us much about the technicalities of his photography, but he did show us many remarkable images to encourage us to take that step further. The image below is typical of his mountain photography.


.Pioja-Peak Biaho Tower at Dawn, by Van Greaves...


WDPS ZOOM Session, 19 October 2020


.Graham Curry

On Monday 19 October the WDPS held another Zoom Meeting; this one was presented by Graham Currey with the title "Photography from both sides of the Camera". Graham is well known to the WDPS not just for his talks but also because he runs regular instructive sessions at chosen studios and locations in our locality. He showed us a series of images, many taken at the sessions, but also landscapes mainly in North Wales. The .dichotomy in the title is because Graham appears as a model in many of the studio sessions ranging from a joker to a cowboy.
See his web-site www.sessiondays.co.uk


.Portrait by Graham Currey..


WDPS ZOOM Session, 14 October 2020
.Quadrilateral Competition.

On Wednesday, 14 October the Annual Quadrilateral competition was held This is a competition where a club representing Wales (WDPS), a club representing England, Corby Camera Club, one representing Scotland, Hamilton Photographic Club and a club representing Northern Ireland,, Newtoenards (ARDS) Camera Club each enter 15 PDIs. These are judges by a senior photographer, this year Roy Lambert DPAGB, AFAIP, BPE2* from the New Forest Camera Club.
The competition was run by the Corby Club, and members of all the clubs involved were invited to join the Zoom session to see and hear the judging. Over 80 club members joined in. Bob gave constructive comments and recommendations for each of the 60 images, and marked each out of 20.

At the end of the evening the ARDS club had the most marks and was declared the winner. Wrexham was the runner up.
We were pleased with this result. Last year we came third.
One of the Wrexham entries was Plas Power Weir by Gwilym Jones, illustrated below. This scored a maximum of 20 marks.



Plas Power Weir, by Gwilym Jones.


WDPS ZOOM Session, 12 October 2020
Graham Scott-Taylor, Graphic Design and Photography.
Graham Scott-Taylor is a Welsh professional photographer and graphic designer living in Conwy, after having spent over a decade in the USA.
He is a member of the Professional Photographers of America organisation. He says that graphic design is an exercise in visual communication, and there is much common ground between that discipline and creating photographs.


The fundamental idea for graphic design starts with exploring the combination of three basic shapes, a circle, a square and a triangle.
Control, placing and interaction of these in an image, can govern how effective that image can be in helping transmitting its message or story, and for publishing images, this is very important. He also showed the " Monkey Business Illusion" to help illustrate how people are generally not observant (it is on You Tube – look it up). With photography, it is essential to look for and see shapes and learn how these can help photographers compose their images. Believing that the strongest image is often the simplest and most direct one.


Graham showed many examples of his images and explained the shapes they contain, to provide a convincing picture. Many images allowed space for text to be added later, this can be essential when images are being considered for publication in book covers, advertising, web pages and brochures.

His final advice was to know your gear – how often have we heard that – be observant, be prepared, practice and keep it simple. He believes the better your gear familiarity is, the less likely it will interfere with taking an image.


The image below shows a combination of a circle, squares and triangles to form a compelling photograph.



Red Apple, by Graham Scott-Taylor.


WDPS ZOOM Session, 28 September 2020

Rod Sloan, Sports Photography
On Monday, 28 September Rod Sloan, of West London, gave a talk which he had titled "Sports Photography". However, he started with some general comments on his purpose in photography – to Educate, to Inspire and to Entertain. He regards himself as a visual storyteller rather than a photographer, and an enthusiast rather than an amateur. He tried to define the purpose of taking photographs, ranging from self satisfaction to global acceptance.
He first became interested in sports photography when he joined a local club but concentrated on cycling because that sport was underrepresented and easily accessible both on the streets and at the velodrome that had hosted the Olympics. His formula for taking winning pictures included to tell a story and to capture the peak emotion. This latter point was highlighted when he advises taking a photograph of the winner after the winning line, because at that line all cyclist heads are down producing maximum effort. A bit further down the track the winners arms are raised in triumph. This is a point that many novices would miss, but shows how well Rod knows his sport.
Technically Rob has no preferences and some of his images are captured on a mobile phone. Otherwise he tends to use a 50mm lens because he tries to get close to the action; he works at maximum aperture and adjusts the shutter speed. Focus can be difficult when cyclists are approaching at high speed, but with track events they come past a number of times, allowing experimentation.
Rob commended Instagram ( see london.bike.racing )for recognition. His page contains many images which attract more invitations to attend race meetings, be they road, circuit, track cyclocross, mountain or hill climb events.
We had a very interesting evening.


Vasil Kiryienka, by Rod Sloan.


WDPS ZOOM Session, 21September 2020


Sue Clark, Composition, Rules and Myths


Sue Clark's professional life was in science but her passions have always been in creative arts and art history. She started taking photographs as a teenager, although it wasn't until she joined Conwy Camera Club in 2010 that she began to look at her images in any critical way. Having them assessed in club competitions was very helpful, especially the comments and discussion about composition and use of colour.

There seemed to be so many rules about how to compose a picture that she decided to research the subject. This talk is a discussion of how, why and when composition guidelines and use of colour have developed and their validity in the creation of an image.


Sue pointed out that we crave harmony in our surroundings. The Ancient Greeks realized that we instinctively feel comfortable with certain shapes, proportions and arrangements of objects in a space. These principles have developed into guidelines used down the centuries by artists, architects, sculptors and more recently, photographers. She demonstrated this with many images of paintings and photography.


She explained that if these guidelines produce a pleasing image, then by flouting the rules a less comfortable or more challenging impression can be created.


Some people have a good eye for design and instinctively compose the picture to suit their subject and its message. Other people need a little help from the guidelines to produce a successful composition and the more they practice, the more intuitive it becomes. Sue said that making objective analyses of paintings and photographs in galleries can help to see what works.


Picasso said "Learn the rules like a pro, so you can break them like an artist"


WDPS ZOOM Session, 7 September 2020
Paul Stanley, FIPF, EFIAPg "My Photography"


Paul Stanley is a member of the Dublin Camera Club, and has been the President of the Irish Photographic Federation. He is a enthusiastic contributor to international exhibitions and salons and given presentations to many organisations both in Ireland and internationally.. Paul is not a speaker we could usually see in Wrexham,, but because of the Covid19 cloud we are able to communicate remotely. A silver lining indeed.

Paul's talk covered many genres., travel, street, landscape, people and long exposure. He meticulously plans his expeditions, preferring not to use local guides and hence his images are not the usual "put your tripod here" pictures. He likes to keep things simple, "get it right in the camera" and does not use flash or much computer manipulation.
This approach was exemplified by an image of Inch Beach, Ireland taken from a cliff showing a large number of people enjoying the sea and beach. However, Paul waited until a man carrying a surfboard was approximately centre field. This gave a focal point for what was essentially a pattern photograph with the feeling of a Lowry's matchstick men painting. This attention to detail shows in many of his images.

Particularly noteworthy was the proportion of monochrome images. Paul's' approach is that if colour adds nothing, stay in monochrome. Colour often distracts from the object of the image, especially in street photography. Even in Paul's colour images he tends to use a limited palette.
The image below is typical of Paul's work. It is taken with natural light but the combination of the principle subject and the background pair of friends works very well. It was taken without the photographer arranging the subject – this is as found.

This was a fascinating talk with a extensive range of first class images
.

Tom O'Donnel, by Paul Stanley, FIPF,EFIAP.
WDPS ZOOM Session, 17 August 2020

Simon Van-Orden

The WDPS had a Zoom session on Monday, 17 August at which the guest speaker was Simon Van-Orden from Epson.
Despite living in the South of the UK his passion is for the Aurora Borealis (or Aurora australis in the southern hemisphere) otherwise known as the "Northern Lights" He explained to us the science behind these displays, depending as they do on emissions of hot plasma from the sun reacting with the earth's magnetic field and its atmosphere. Prediction of Aurora can be based on solar activity.
Simon listed the myths behind these displays ranging from arguments between the Nordic gods, to signs of good fortune
. Photographically the displays are faint, but because the eye is relatively insensitive to low light, photographs frequently show more than is visible. A wide angle, wide aperture lens is required, together with a solid tripod and a remote, and a dark sky location, usually in Scandinavia. The camera should handle high ISO without noise. The camera should be used with manual focus control since it will otherwise hunt during the exposure, and focus is critical to keep the stars sharp. He quoted a 30mm lens at f2.8, ISO of 3000 and exposure time of 15 seconds as typical.
We were shown a number of images of aurora, all of which were spectacular.
Simon has run photographic trips to favourable sites and will continue after the Covid19 crisis has passed, but at present the aurora activity is weak. The forecast is that aurora will reach a pea activity in 2024.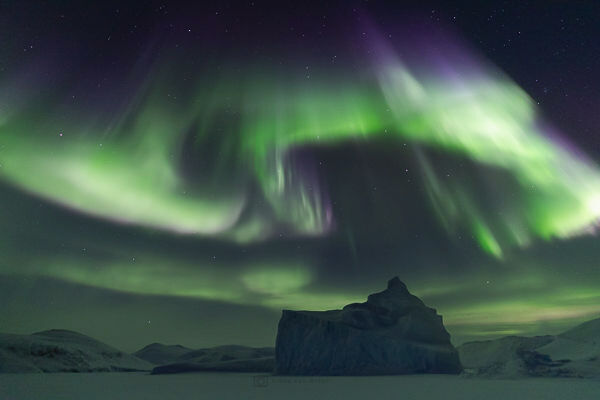 Aurora, by Simon Van-Orden..
WDPS ZOOM Session, 3rd august 2020

Martin Patten, DPAGB, LRPS, BPE4*, QPSA
Planning Photgraphy, not Grazing

On Monday, 3th August we held another Zoom meeting with a respected photographer. Martin Patten is from the Watford region, and as you can see from his distinctions, is distinguished.
His talk was called "Planning Photgraphy, not Grazing" and the basic message was that the best images come from careful planning of the Why? Where? When? and How? As a result his talk was full of practical help on most genres of photography from wild-life to macro. For example, Martin wanted photographs of puffins with sand eels, so he found the best place, the best time of year, the best time of day and the best equipment. As a result, he has wonderful images of puffins.
Martin gave many "Quick Tips" related to most genres of photography. Maybe the principal one was "Work the scene" by which he meant look for better angles, better light better composition. One image is not enough – that is a throwback to film days. With digital, many images can be taken with slight adjustments to the angle and thee composition. Do not rely on later manipulation to get the best image. He was also keen on photographers knowing their cameras, and how to make adjustments without having to consult the instruction manual.
In summary, this was a talk that would interest experienced, intermediate and beginners, So much helpful information, interspersed with exquisite images. It was a pity so few members attended.

Martin Patton's Summary Slide..
WDPS ZOOM Session, 27 July 2020

Gareth Martin, AWPF, CPAGB

Images in the Making, Starting and Finishing Images

.With coronavirus regulations still in existence the WDPS held a talk session by Zoom on Monday 27 July. The speaker was Gareth Martin, AWPF, CPAGB from South Wales. Gareth is a stalwart of the Welsh Photographic Association, but it is the necessity of Zoom meetings that enables the WDPS to take advantage of his experience.
Gareth claims to be a non-purist photographer and this showed in his presentation. He showed both the original photographs and the final outcome of many of his successful images, but also included some that "only scored16" so the rest of us could relate to his work. He also told us which software he used, which manipulation techniques and which filters. It was not intended to be a teaching session, but this information would help all members.
One of his favourite techniques was to use the "Grunge" filters that many photographic workers disdain. Some of his work could be described as "minimalist" and others very low-key. The saturation control was usually moved down, not up! Another unusual feature for portraits was to concentrate on the hands and not the face. This still revealed a lot of the character of the sitter. Another surprise was the number of images featuring toilets and Gareth's skill in framing the composition. He told us that he was never apprehended for taking a camera and tripod into these enclaves of privacy.
A successful and very different evening.
I suggest a visit to his Facebook page, facebook.com/pg/34gareth.martin/photos/?ref=page_internal



,Bunty is a Good Read, by Gareth Martin, AWPF, CPAGB
All WDPS meetings from 16 March are cancelled because of Coronavirus


Zoom Activity.

The Wrexham and District Photographic Society is continuing to be active during thisCovid19 shut-down period. We are holding a series of informal competitions on our Facebbok page. A topic is defined and for two weeks images can be posted on the site. Then, on alternate Monday evenings at 8.00pm a judging session is held to define a winner. That winner then sets the subject for the next two weeks. This activity has proved popular, usually with about 30 entries. However, only a small number of members are regular entrants; we would encourage all – this is open to the public – to look at this.


We are also holding a series of four Zoom talks starting late July going through to the beginning of September.
Monday July 27th
- Gareth Martin
Images in the making. Starting and Finished Images

https://www.flickr.com/photos/125944788@N03/50018676793/in/datetaken-public/

Monday August 3rd
- Martin Patten
- Improving your photography. Planning Photography, Not Grazing

Monday August 17th
- Simon Van-Orden - Chasing the Lights
www.wildearthpictures.co.uk
Monday September 7th - Paul Stanley - My Photography covering recent Travel, Long Exposure.
http://www.dublincameraclub.ie/




2019-20 Image of the Year Competition.

It is not a normal year because of the Covid19 epidemic and the subsequent lock-down. Nevertheless the Wrexham and district held the most prestigious competition of the season – The Image of the Year.. for this competition images used in previous competitions in the past season can be used, so a very high quality of entries is expected.

Because of the lockdown only PDIs could be used. These were emailed to our competition secretary, who in turn organised them and sent them electronically to the judge, Steve Carr. Steve then judged each one and gave a mark before deciding the eventual winners in the monochrome and colour sections.


On Monday 11 May we held a Zoom session at which the images were shown and the judge's comments and mark read out by Chairman Les Flower..We had 20 members on line which is about the same as we get at meetings at the Rail Club so this method of holding meetings is quite popular. It was not the same as having a real live judging evening lacking some of the informality and the rather more extensive comments usually given but still an opportunity to "meet" WDPS members.

The winner of the monochrome section was "You really take pictures with that" by Gwilym Jones. This image shows a lady holding a simple box camera. The colour section was won by John Hallard with "Little Swans", a study of two young ballerinas. These images, together with second and third placed images can be seen in the Gallery section of this web-site.
.


Monday, 27 April 2020.

Julian Elliott, Travel Photographer


This was a video meeting as required by the Coronavirus, but nevertheless enabled the WDPS members to look at some of Julian's fabulous images. He is a professional freelance photographer currently living in France.

In his opening remarks he explained that one of his objectives was always to "get it right in the camera" and not to rely on later computer manipulation. This was a welcome introduction; these days many if not most photographers, (even us) spend a lot of time at the computer. For more information on his philosophy consult his web-site https://www.julianelliottphotography.com

His talk was on a journey to Mongolia, a country which he explained was 6 times larger in landmass than the UK, but the most sparsely populated country in the word. Julian started with a few images of the capital, Ullaanbaatar where nearly half the population of the country live. He compared the apparent riches of the high-rise centre, with the shanty town of the suburbs. The main Ukhbaatar Square. is impressive and compares well to squares in other major world cities.

Julian then moved on to the vast unpopulated grassy steppe and desert. He explained that the vastness makes getting representative images difficult, the horizon is so wide. It also explains his recommendation of a 100-400mm lens as best for travel photography; it foreshortens the horizon and can allow close-up images at a distance. (He also uses a 24-70 lens) Furthermore he uses a Tilt-Shift lens for landscape photography. Most of us think these lenses are for architectural photography. Julian explained these lenses enable him to get foreground and background in focus, when there is a considerable distance between them. Dedication to detail.

The final section of his talk covered the Eagle Festival, probably the best known event in the country, even though the numbers contributing and attending are small. The photographs were astounding, showing both the docility and the ferocity of these giant birds and the amazing horsemanship of the locals.

The only disappointment of the evening – the small number of WDPS members joining in the Zoom session.

Mongolian Eagle Hunters, by Julian Elliot.
Sharon and Rob Prenton-Jones, .13 April


We had a very interesting meeting on the evening of Monday, 13 April ar our usual time of 8.00. However, this was very unusual – it was remote with Zoom bringing speakers and members together.

Rob started the evening talking about and demonstrating how he develops ihs "composite picture". He meticulously plans each of the images he is going to use, ensuring the light is in the correct direction and softness, reminding us that the highlight in eyes is the indication of direction of the light. It is also important in the individual images to consider the background so that it can be easily selected for removal if necessary. He continued to illustrate how the various images are combined with the use of textures to add character. At the end of his section he demonstrated using one of Les's images ho w relatively easy these techniques are, even putting lighted windows into a church ruin.

Rob did mention that one of his composite images took 11 months to get all the original files together!

The second half of the evening was taken by Sharon illustrating the complex facilities incorporated in Photoshop for constructing and improving images. In particular we were impressed by the method she has for adapting the depth of field, how to insert shadows to "ground" parts of the image, how to improve detail. She also finished by demonstration on an image by a WDPS member, this time Eddie, whose image of cloth dying yards in Morocco was noticeably improved. (It wasn't bad to start with, Eddie)

The noticeable advantage of this type of Zoom demonstration is that we, the audience, see exactly the same screen as the person demonstrating the techniques. This makes it much easier to to see which tools are selected and how the process develops. There were about 20 members joining the group, and we all learnt a lot.

Rob and Sharon have a web-site https://www.prentonjonesphotography.co.uk which gives details of the workshops they hold. Although these are postponed for the duration of the Coronavirus lockdown, they should form a very valauable insight for anyone interested in advanced Photoshop methods of Composite Photography.

WDPS is going to have another Zoom evening at 8pm on Monday, 27 April when Julian Elliot will give a talk on his trip to Morocco. These sessions are well worth joining, and yo can do so without venturing out of your front door.
WDPS ZOOM Session, 2nd April 2020.

.Coronavirus has shut down all the meetings for the time being, so WDPS has been experimenting with video meetings using the well-known ZOOM platform. Members who want to join Zoom can do so by downloading the App for free. It is not necessary to take the extended version, just the basic free system. It works by entering a code and meeting number to the home page, and you find you are on a video link to the rest of the members who have logged in to that meeting. Thanks to Les flower for organising all this.
At this video meeting we viewed, and commented on, the images that had been entered for the first of our "Out of Season" Facebook challenge. There were 41 entries from 14 photographers. On the subject of "Bridges"..Entries ranges from rustic simple stone bridges in Snowdonia to grandiose iconic bridges such as the Golden Gate. Choosing a winner was not easy. Should the winner be photographically the best composition, the one with a good storyline, a moody one, a happy one? The chairman – who had set this subject had the right to pick the winner and most – but not all- agreed that Gwilym Jones's "Tower Bridge" met the requirements. All the entries can be seen on Facebook.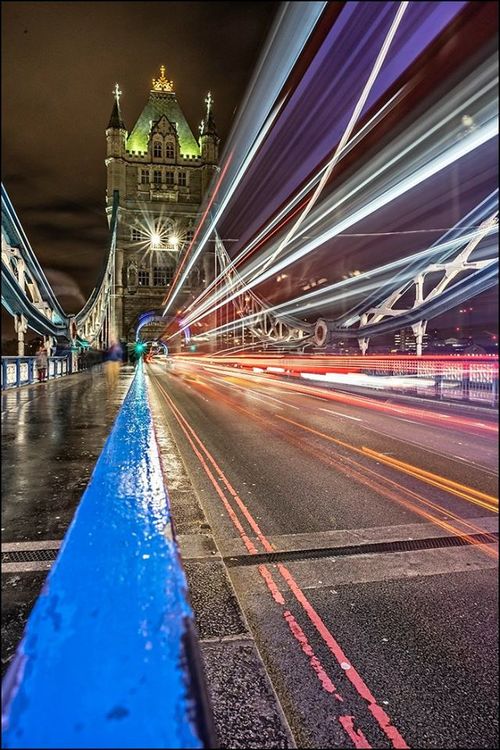 Tower Bridge, by Gwilym Jjones

We agreed the format was quite acceptable, although if there is a large number in the Zoom group curtailing conversation to a "one-at-a-time" discipline might be difficult. WDPS will use this format for meetings again. Keep an eye on this space.


Peter Clysdale Trophy (Monochrome)
On Monday, 9 March we held our annual monochrome competition for the Peter Clydesdale Trophy.

The entry into the print section was sparse, only 15 images were submitted, although all of these were of excellent quality. There was a better entry into the PDI section, 65 images submitted. I think this shows that more and more of our members are turning their backs on prints. This is unfortunate – a print always looks better in detail and texture than a projected image – and you can't hang a PDI on a wall or even sell one if that is your intention.. Why not try printing. A4 prints can be entered in the WDPS competitions.

Nevertheless, our judge for the evening, Chris Kay clearly had difficult decisions to make. Eventually he decided the winning print was " Interrogation" by John Hallard, and the winning PDI was "Horses" by Mike Mason. Congratulations to both – and all the other entrants.

"INTERROGATION" by John Hallard, Winning Print.




"HORSES" by Mike Mason, Winning PDI.